- Client Reviews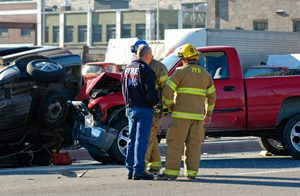 Across our roadways there are dozens of vehicles traveling from one location to another, while the fastest way to travel long distances in a shorter period of time is by taking the highway. As there are typically many vehicles traveling on our highways, these drivers are placed at an increased likelihood of being involved in a multiple automobile pileup.
Many times, weather conditions may play a huge part in the cause of multi-vehicle crashes, as one vehicle may not have time to stop before colliding with another and so forth. This will cause many roadways and highways to be shut down until the accident is cleared.
The auto accident lawyers at Greg Monforton & Partners have great sympathy for those injured in multi-vehicle crashes and believe that all injured victims may be eligible for compensation benefits. Our lawyers believe that when a negligent driver brings harm to an innocent victim, that negligent individual must be held accountable for their actions and pay for all the losses and damages they have caused.
For help with your potential claim, call our auto accident legal team today at (866) 320-4770.
Causes of Multiple Automobile Pileups
In most instances, multiple automobile pileups may be caused by a number of different factors.  These factors are typically a result of some form of negligent driving behavior and typically result in severe accidents due to the many automobiles involved. Some causes of multiple automobile pileups include:
Aggressive driving
Automobile malfunction
Bad road conditions
Failure to use turn signals
Impatience
Inexperienced drivers
Typically, when these types of accidents occur, they will cause serious injuries to those involved. This is simply due to the fact that they may have been struck by multiple vehicles at varying forces, which causes the body to react in un-natural ways.
Injuries Caused By Multiple Automobile Pileup Accidents
As previously mentioned, a single automobile may be struck by several vehicles during a multiple automobile pileup, therefore increasing the drivers and passengers chance of injury and death. Some injuries caused by multiple automobile pileup accidents include:
Herniated discs
Nerve damages
If you have been injured following a multiple automobile pileup, it is advised to seek medical treatment. This will assure all injuries are cared for and also provide lawyers with medical documents needed to prove injuries were caused by the negligent actions of another driver.
What to Do After a Multiple Automobile Accident
Following a multiple automobile accident, the scene may be extremely confusing and hectic, as there may be possible injuries and deaths along with severe damages. Therefore, it is important to remain calm and follow the following steps:
Check for injuries
Call 9-1-1 to report the accident
Report the accident to police
Take pictures and videos of the scene
Exchange contact and insurance information with other drivers
Exchange witness contact information
Write down everything that occurred leading up to the accident
Do not place blame on anyone else in police report
Obtain copy of police report
Seek medical attention even if no injuries are evident
Contact an experienced lawyer
By following these simple steps, it will help you recall the accident scene after everything has simmered down following the accident, while also providing documentation of everything that took place.
We're Here To Help After Your Accident
Since 1981, our Windsor barristers have developed a trusting relationship with many clients throughout the years and are ready to start building a relationship with you.
Our lawyers believe that when a negligent individual brings harm to an innocent victim, that individual must be held accountable for their actions and pay for the damages and losses they have caused.
Our lawyers at Greg Monforton Injury Lawyers are proud to serve the following communities:
Brampton
Kitchener
LaSalle
Sarnia
Of course, our team also serves throughout the surrounding cities, towns, and suburbs of these areas while operating on a contingency fee basis. This means that we will not get paid unless we recover for your losses and damages.
Let us put or reputation of success to work for you today by calling us at (866) 320-4770 or click "here" to reach us via this website.
At the law offices of Greg Monforton & Partners, we are here to help. (866) 320-4770