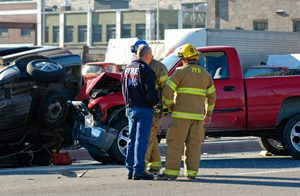 Sources from the OPP have recently released details on a serious two-vehicle accident that took place at the intersection of Fairview Road and John Wise Line in Elgin County on Thursday evening.
According to the report, a 37 year old Kingsville male and his female passenger were headed southbound in their Dodge Durango on John Wise Line when they were hit by 19 year old Mahsa Ghassemi of Stratford in her Toyota Matrix that was traveling eastbound on Fairview Road.
The collision resulted in both vehicles careening off the roadway and into a nearby ditch, with the force of the accident requiring the female passenger in the Dodge Durango to be cut from the vehicle and then airlifted to a local London hospital with serious injuries.
The occupants in the Toyota19 year old Ms. Ghassemi and another 20 year old female passenger were also required to be extricated from their vehicle, but escaped with non-life threatening injuries.
Following an investigation by the Elgin County OPP, Ms. Ghassemi has been charged with one count of careless driving and is scheduled to appear in St. Thomas court.
This is a developing story. Be sure to check back for updates.
Have you been injured or suffered property damage in an accident that was caused by another motorist?
At the law offices of Greg Monforton & Partners, our Leamington auto accident lawyers have DETAILED knowledge of Ontario's traffic laws and currently offer free consultations to injury victims and their families to help determine if they have sufficient grounds to file a damages lawsuit.
Don't delay. Contact our highly skilled personal injury lawyers today by calling (866) 320-4770 or reach us online by filling out our "Free Case Evaluation" form.
We have a proven record of success and only get paid when we obtain a recovery on your behalf.